Tet is an opportunity to express gratitude and thanks to family, friends, and loyal customers through meaningful gifts. A well-designed and creative Tet gift box model both contributes value to the product and shows the giver's heart.

Benefits of paper gift packaging for Tet:
Preserving gifts better, avoiding external impact or falling during transportation.
"Fine feather makes fine birds", meticulous paper box packaging design will help increase the elegance and quality of the product inside.
For businesses, choosing a beautiful box design can both create a good impression on customers and convey your brand messages to them.
The color of the paper box should reflect the Tet atmosphere
Each color on the packaging has a certain meaning, creating a great impact on the customer's emotions. Especially on busy and bustling days of the new year, it is necessary to choose gift boxes with colors of luck, joy, and happiness.
Red – the color of luck: According to Eastern culture, red is considered the color of fortune, luck and symbolizes happiness. The red gift box contains a lot of positive energy, bringing a feeling of excitement, joy, and luck to the receivers.
Yellow – the color of prosperity and merry: Like red, yellow brings a sense of positive energy, wealth, nobility, and prosperity to your New Year gift box. It is also the color of the apricot blossoms blooming in winter and spring, fetching joy, happiness, and blessing to the receiver.
Green – a peaceful start: On New Year's Day, the bright green color represents spring, trees sprouting, and continuing vitality. Therefore, the green gift paper box both brings elegance and the color of a new start in a favorable way.
The Tet gift box made from kraft paper is also a common option. Kraft paper – recycled paper both protects the environment and saves costs and impresses customers with its special color tone.
>>> 5 Basic steps in the premium gift box manufacturing process in Vietnam

Large-sized paper gift box for storing many items
The most popular Tet gifts are dried foods, wine, or calendars. Usually, you will give a combination of many different items, so the large size paper gift box with many compartments would be very convenient.

When designing large-sized gift boxes for heavy products, the paper material is one of the top priorities. There are common types of paper such as Ivory paper, Couche, art paper… Compartments are separated by rigid plates. The box can be in a rectangular or square shape to match the size of the inner gift.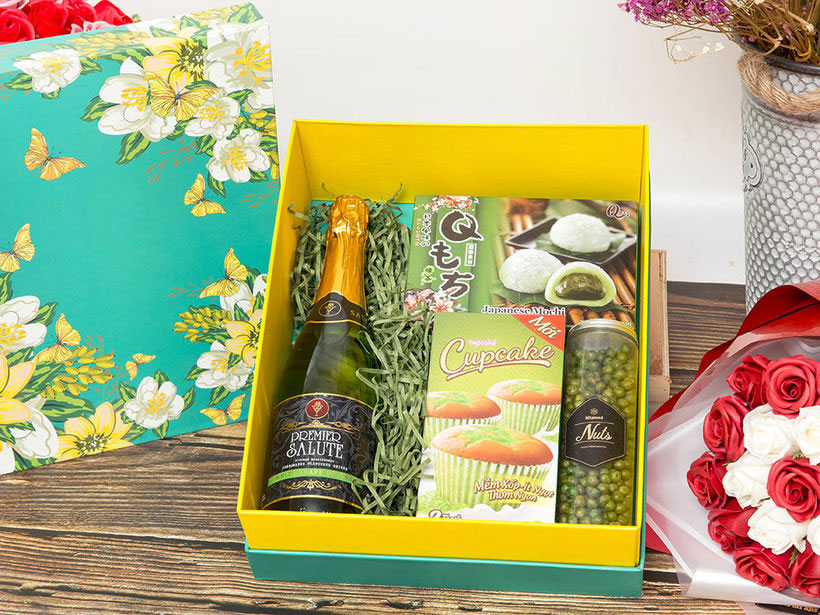 Determine the number of boxes to print to avoid waste
Tet gift boxes are usually valid for a certain time. Therefore, determining the correct number of boxes to use will save you a lot of money. Printing too much will be wasteful. Moreover, the paper box specifically designed for Tet is always colorful, which is not suitable for everyday use.

To avoid this, before printing the box, you need to make a list of receivers who can be your customers, partners, friends, or relatives. Nextly, expect quantity and cost, then design the gift box packaging and before printing at the gift box manufacturer.
>>> How to print the high quality cosmetic box packaging in Vietnam?

In this new year, give presents to your partners and customers in premium and unique paper gift boxes. Contact Khang Thanh for advice and order:
KHANG THANH – HOUSE OF PACKAGING
Tel: 077 8878 222
Email: info@khangthanh.com