Why do premium gift boxes usually have a higher value than other types of paper box packaging? Here are some points that make premium packaging special.
High-quality materials
If paper boxes and cartons often use common printing materials such as Kraft, Ford, Duplex, Bristol, Couche… luxury gift boxes often use high-quality paper such as fine art paper, Bristol, Couche, Ivory.
These kinds of paper have a smooth surface that enhances the quality of color, images, and letters.

Choose different kinds and basic weight of the paper depending on the product. For example, yin-yang boxes with unique fine art paper can be used for jewelry, while the phone case uses Couche paper and Chipboard to create a modern and luxurious look.


Premium box – Inside out beauty
The premium gift box is a packaging line that combines the two factors of quality and aesthetics.
In terms of quality, because it is a combination of high-quality printing paper and chipboard, the gift box has a solid and safe structure.
In terms of form, premium paper boxes have more meticulous and sharper design details than other types of carton boxes.
The motifs are designed in a minimalist way to highlight key details such as logo, slogan, company information… Solid colors such as plum red, black, white, gray… are colors that are usually used.

Designing an eye-catching luxury box not only clearly shows the brand identity, but also helps increase product value, indirectly contributing to increase sales for products.
High-end product lines such as wine, jewelry, cosmetics, watches… will require higher quality, in which packaging design is an important factor.
In particular, the process of creating product surface effects such as metalizing, laminating, embossing, stamping, UV coating… can be combined together, creating a unique and special highlight for the product packaging.
Read more: Tips For Choosing Gift Box Packaging Suitable For Every Nice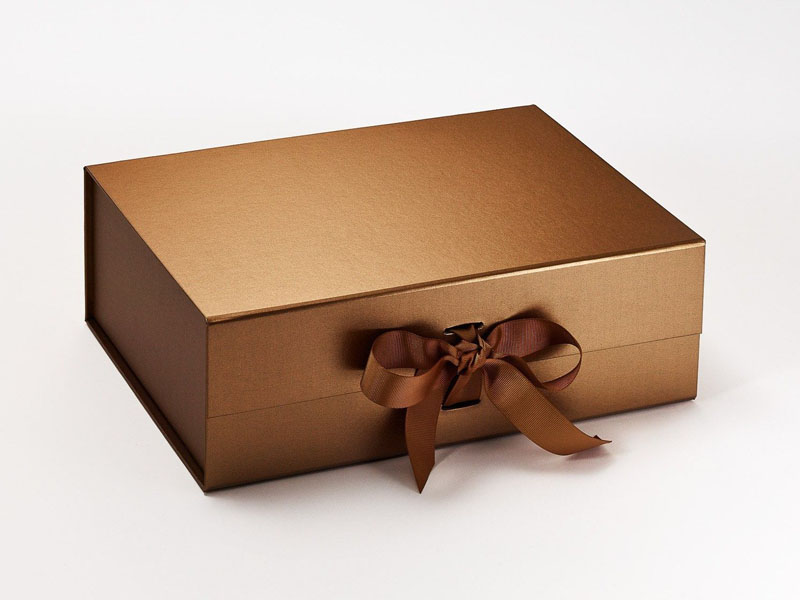 Premium paper box production process
Premium gift boxes are often more valuable and expensive than other types of boxes, so what is special about the production process of this type of box?
Selection of paper for premium boxes
Factors such as design, printing, or processing depend a lot on the paper material. Therefore, choosing paper is quite an important first step in the production of premium boxes.

Depending on the nature and characteristics of the product or the intended use and budget, choose the appropriate type of paper. There are types of paper used in the production of high-class paper boxes such as Bristol paper, Ivory paper, Couche paper, Duplex paper…
They all share common characteristics that enhancing the quality of color and printing but the price is relatively high.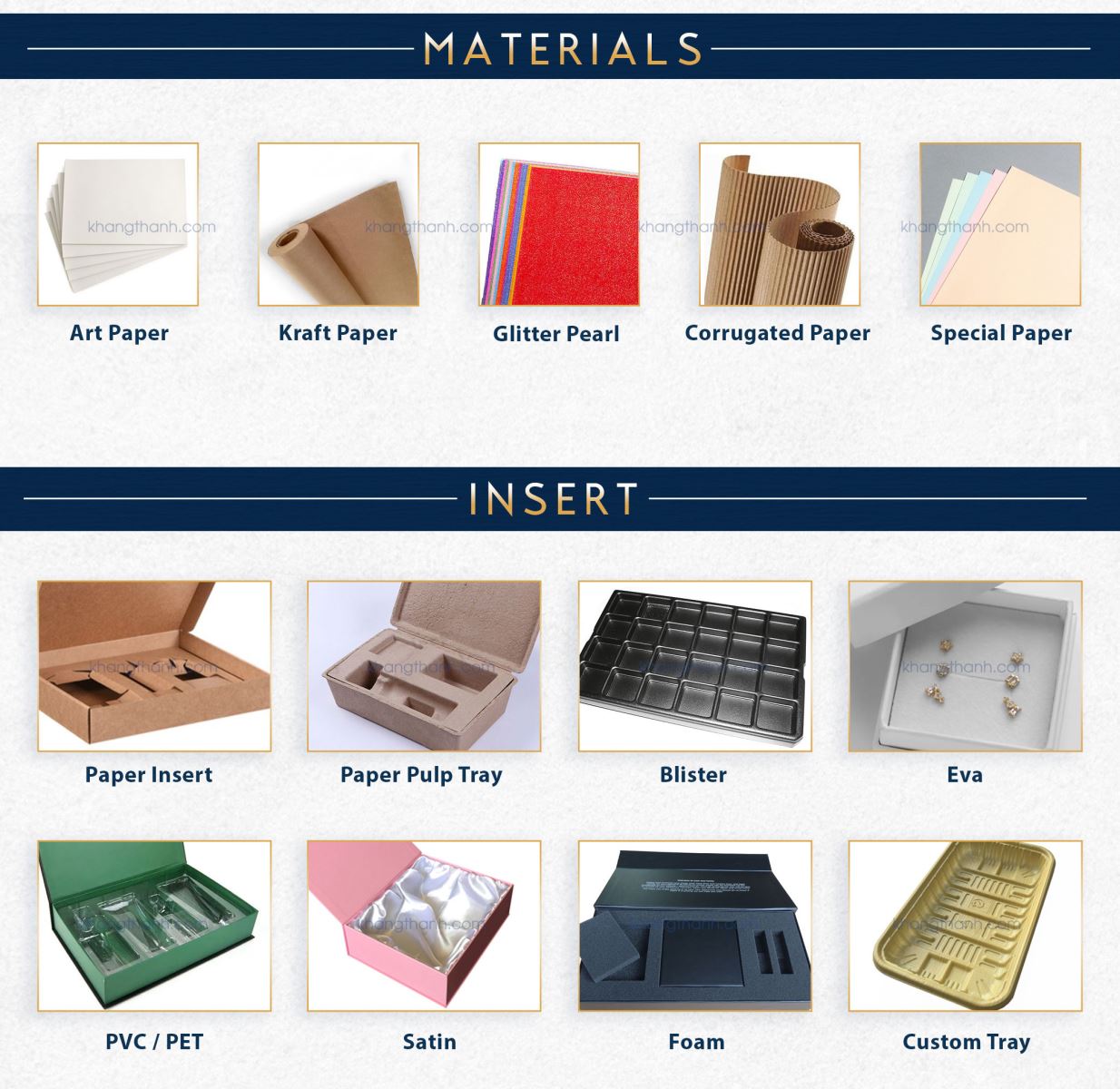 Selection of premium box's specifications
Box specification is understood as the way to open and close the paper box or box size. Depending on the characteristics of the product, the box model will have different specifications, such as a drawer gift box, yin-yang box, or magnet box with snap-on lid… This specification is usually selected based on the characteristics of the product and customer habits.

In addition, based on product characteristics, you can choose the size and weight to pack, store, transport, and use more easily. You can refer to 16 premium magnet box models here.



On-demand printing
After having a satisfactory design (structure, artwork, materials…) the next step is to print. The printed information includes colors, words, images, patterns… In premium gift box printing methods, offset printing is often used because of its sharp and eye-catching printing quality. This directly affects the aesthetics and brand identity of the product.

Finishing phase in the premium box manufacturing procedure
Finishing is the last step performed on the box sample before completion. This process includes folding, gluing, stapling, piercing … to create finished boxes for customers.
In addition, depending on the needs of customers, the packaging manufacturer can perform some additional processing techniques such as lamination, coating pressing, stamping, embossing, etc. to create attractive effects on the boxes.

Checking and handing over to customers
After production is completed, the QC department will conduct product quality checks before handing them over to customers. The inspection is based on international standards such as ISO 9001, G7, BCR… or according to each company's internal standards. For better understanding, you can refer to the article: 8 steps in the production process at a packaging manufacturer

Let us solve your packaging problems with standard, safe, quality packaging solutions. Contact us to order your premium magnet gift boxes:

KHANG THANH CO., LTD – ​HOUSE OF PACKAGING
Tel: (+84) 77 8878 222 ​
Email: info@khangthanh.com