Sliding boxes with a unique design are popular today. In this article, we would like to share 8 unique designs suitable for gifts, hoping to give you some ideas for your own gift boxes.
Sliding box in basic and luxurious design
By only using black and white as mainstream colors, this sliding box still shows high aesthetics and luxury. This type of box is suitable for small-sized products, and the cost is relatively high because of its sophisticated design and high-quality paper material.
Besides, using the hot foil stamping technique for important details such as logos, textures, etc., makes the product more impressive and high-class.


Drawer paper box with a convenient handle
Compared to model number 1, this type of box has a convenient and unique ribbon zipper. The plus point is that the box has 2 handles like a paper bag, which is not only convenient to store but also easy to transport. To make the paper box more beautiful, you can decorate it with baby bows, notepaper, or handwritten cards…
The drawer box with ribbon straps is suitable for small and light products such as watches, jewelry, small cosmetics, small souvenirs… This is a convenient and economical gift packaging option.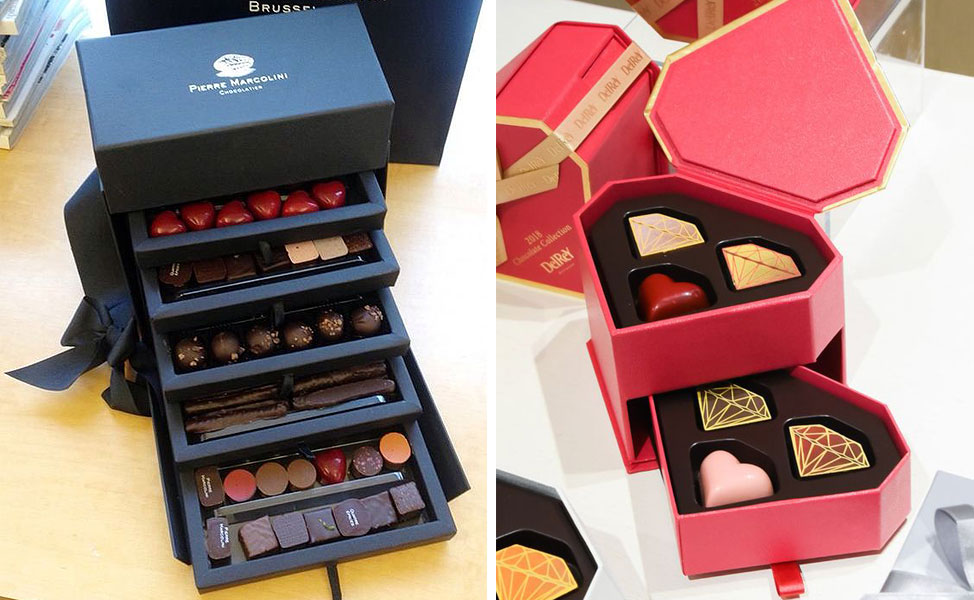 Sliding gift box with a beautiful bow
Do not use chipboard or hard carton as a support frame like the above 2 types of box, this box type is made entirely from high-quality art paper. With the embossed veins covering the entire surface, the customer experience when opening the box will become more impressive, its roughness matches the rustic features of the gift inside.
The advantage of this box model is its lightness and cost savings. However, the bearing capacity and durability are less.
>>> How To Order Nice Drawer Gift Boxes

Paper gift box with 2 horizontal drawers
Like a miniature shelf with many drawers, this box model is suitable for storing many products at once such as moon cakes, chocolates, etc. In addition, the ribbon zipper also helps to open the box faster, easier. This box model uses the UV coating and hot foil stamping methods, making the paper box more eye-catching and attractive.



Drawer rigid box with lid
The special feature of this type of box is that it has a folding lid, keeping the products firm during transportation. The inside of the box uses a partition to divide into many cells, suitable for small and light products.
Sliding gift box with 2 vertical drawers
This box model has 2 separate drawers designed to help clearly classify the products inside. Instead of ribbons, the box uses a leather zipper, which adds elegance and value to the product.
Like a miniature suitcase, this template is suitable for small, light, and high-value products. No printing, using only the main black color, but the box still retains its high-class and luxurious features.
>>> What makes a luxury gift box different


Impressive sliding cake box
If you need a container for cakes, and candies… then this is a suitable choice. Made of golden-brown kraft paper, this box brings a rustic and intimate feeling. Besides, without using sophisticated paper materials, kraft box becomes a cost-effective and environmentally friendly option.
Ivory paper sliding box with beautiful accessories
With a minimalist design in white color, Ivory paper drawer box is a good choice for jewelry, keychains, souvenirs, and cakes… Especially the freshness in the use of flowers, leaves, or ribbons to create a youthfulness for the gift.
Have you found an idea for a gift box template yet? If not, please contact us for advice on choosing the right box model for your gift.
KHANG THÀNH – HOUSE OF PACKAGING
Tel: +84 (0) 77 8878 222 ​
Email: info@packagingvietnam.com