Besides packaging effects such as stamping, embossing, lamination, etc., hot foil stamping is one of the most popular methods today, especially with premium packaging products such as paper boxes, paper bags, or hang tags…
Hot foil paper bag is one of the popular choices in the fashion, clothing, footwear, cosmetics industries. Comparing to kraft paper bags or shopping bags, what are the advantages of hot foil paper bags? Khang Thanh will summarize the basic features of this premium bag in the following article.

What is a hot foil paper bag?
Hot foil paper bags are bags that use the hot foil stamping technique (another name for embossing, gilding, etc.) to highlight details that need to be emphasized such as logos, slogans, or motifs.

As one of the post-printing stages, the hot foil stamping uses an aluminum mold that has pre-engraved images and information that need to be highlighted, then fix it on the stamping board and adjust the temperature from 70 to 100 degrees Celsius.
Next, the packaging manufacturer will use a metallic layer (usually metallic gold or silver) to cover the surface of the paper and apply pressure for a few seconds. Thanks to the hot foil stamping technique, the important information on the paper bags is shown more clearly and prominently.


Advantages of hot foil paper bags
They are popular not only for their aesthetics but also for the benefits they bring that can be mentioned as:

Hot foil paper bags have good durability
Because the hot foil stamping process has the impact of a high heat source, the paper used must have a high basic weight and good quality. Some types of paper that are used to make hot foil bags are: Couche, Ivory, Briston, art paper … These types all have good ink, are sharp, and are easy to highlight the laminated details. Therefore, they are usually used for premium packaging.

Hot foil bags have a high aesthetic value
The hot foil stamping method uses various metallic colors, usually gold or silver… Therefore, the important information and images will not only become outstanding but also more attractive and lively. Besides, these glamourous bags also contribute to the value of products containing inside, which can be used for many different purposes such as paper gift bags for souvenirs or thank-you gifts to customers …

Promoting brand identity well
When using the hot foil stamping technique, businesses often want to highlight and emphasize details such as logos, brand names, slogans, etc. to help attract customers' attention more quickly. Besides, thanks to the use of advanced hot foil stamping techniques, important details on the surface of paper bags have better resistance to physical agents (light, moisture…), limiting defects such as ink smearing, being faded, or scratched…
>>> Advantages and classification of paper bags with handles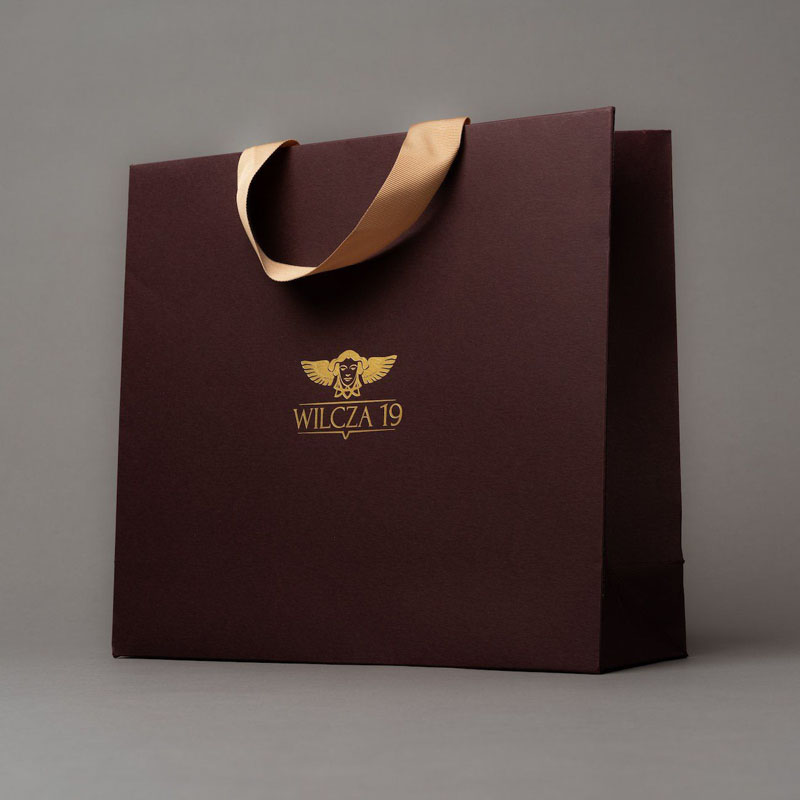 Types of paper used for hot foil paper bags
Hot foil paper bags are produced from many different types of paper, in which 3 common types of paper can be mentioned such as:

Couche paper bags
Couche paper has a smooth, durable and beautiful surface, so it is often used to produce hot foil paper bags. Matte-coated Couche paper is usually used for premium products, luxurious wine, watches, and jewelry…, and is widely applied in fashion, clothes, shoes …

Ivory paper bag
The ivory paper bag is a popular choice, it is a kind of paper that has one smooth side and one rough side. Both sides of the paper are white or ivory white.
Similar to Ford paper, it's an uncoated type, however, the Ivory paper has more basis weight options, it can be up to 350 gsm. Ivory paper is thick and durable, so the packaging product will be also firmer and more sturdy. This type of paper has a bright white color, when offset printing, the finished product has sharp lines and high quality. Ivory paper is suitable for printing packaging that requires premium and luxury in the field of fashion, cosmetics, gifts…

Art paper bag
If you need a really high-class and luxurious hot foil paper bag, then art paper is a type of paper that should not be missed. Art paper has a smooth or slightly rough surface that can be combined with many other techniques such as metallic coating, embossed gloss (various types of patterns)… to create special effects. Although the price is higher than other types of paper, the quality and user experience that art paper brings are really effective.
>>> 9 Models Of Beautiful And Unique Gift Bag

Notes when ordering hot foil paper bags
If you are in need of producing hot foil paper bags, here are some necessary notes:

Paper materials
3 types of paper commonly used in current paper bag printing techniques are Couche paper, Ivory paper, and Art paper. You should choose the type of paper that is suitable for the value of the product to avoid waste. Couche paper is more popular due to its better cost, Ivory paper are usually more expensive but will give better printing quality and a more eye-catching effect.
In addition, it is necessary to pay attention to the basic weight of paper so that your bag will not only be beautiful but also has the ability to contain the products well.
If you are still confused about finding a quality paper bag printing solution, ask for the advice of a paper bag manufacturer to make the best choice.


Printing metallic colors
Hot foil stamping is often printed in 2 basic colors: gold and silver. However, recently, in order to meet the diverse demand of customers, the gift bag manufacturers use a variety of metallic materials with different colors and effects.
For details that need to highlight such as logos and slogans, the metallic print is usually in simple colors, in accordance with the color tone of the brand identity. Meanwhile, the motifs that need to be emphasized such as flowers, leaves, characters, etc., will be in metallic multi-colors with more complex effects such as glossy or matte, … finishes.
>>> 5 Surprising Benefits Of Using Paper Bags
Cost of printing hot foil paper bags
Using high technology, the hot foil stamping technique has a higher cost than other methods. To optimize the cost of producing paper bags, you should only use the hot foil stamping technique for details that are important and need to be emphasized. Avoid hot foil pressing for too many details, which is both wasteful and will not be able to highlight important information.

Above is the basic information about the hot foil printing technique to help you better understand the premium packaging printing method. Khang Thanh is happy to listen to your packaging problems and provide the best packaging solution together. You can contact us at:
KHANG THANH CO., LTD – ​HOUSE OF PACKAGING
Tel: (+84) 77 8878 222 ​
Email: info@khangthanh.com