Washable paper shopping bags are environmentally friendly and fashionable items. During our testing, we evaluated the usefulness, weight capacity, and washability of the top reusable shopping bags. These are the top 8 washable paper grocery bags that Khang Thanh's customers favor. In this blog, we learn more about their traits.
What are washable paper shopping bags?
Washable paper bags are made from tear-resistant and washable paper. As a result, they are more durable and long-lasting than regular paper bags. Like cotton canvas, the material is entirely reusable. Despite being reusable, it does not last as long as plastic over thousands of years. Unlike leather, it is entirely cruelty-free. The paper is made of natural plant fibers and biodegradable materials. We can use washable kraft paper bags for a variety of things.
Are you trying to find your next favorite reusable bag? The best option might be a washable paper bag! To understand more about these remarkable bags and their countless uses, continue reading.
>>> 11 The Most Creative Washable Kraft Paper Bag Designs Ever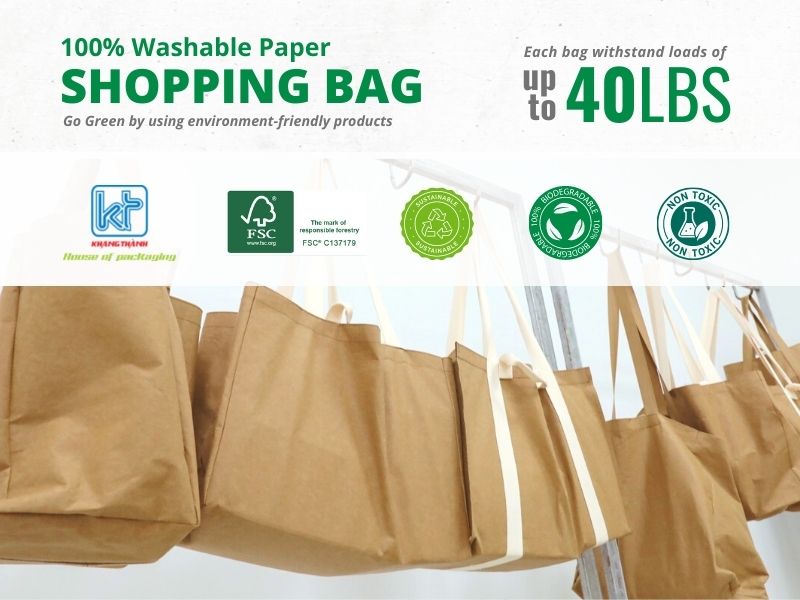 1. Reusable shopping bags with canvas handles
Practical carrying case
Each can support up to 40 pounds
Machine clean or hand wash
Adjustable handle
Printed with your logos
These bags come in packs of five or ten, can contain up to 40 pounds of goods, and have an interior pocket that you can clip to your keys or shopping cart.
Our best choice is the reusable shopping bag because it is made of strong, environmentally friendly paper. It is water-repellent and has a capacity of five packs for a week worth of supplies. These bags are made of sustainably produced, FSC-certified material.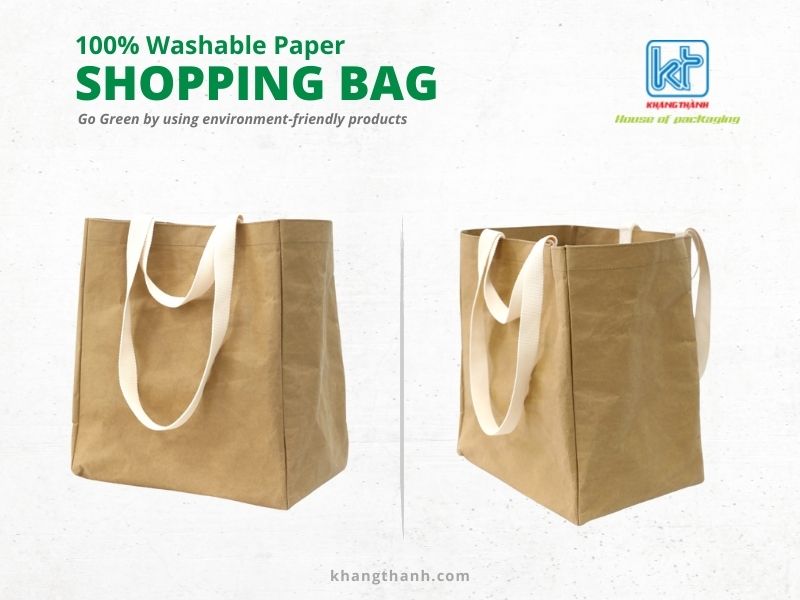 Adjustable handles are one of the prominent features of bags. It allows for a comfortable walk to your car or back to your apartment because the handles are long enough to fit over your shoulder.
There is no need to worry if a spill occurs during your drive home because these bags are also water-repellent. To remove any lingering dirt, simply toss it in the washer. These bags top our list despite costing more than most reusable shopping bags since they are strong, convenient to store, and capable of carrying your groceries.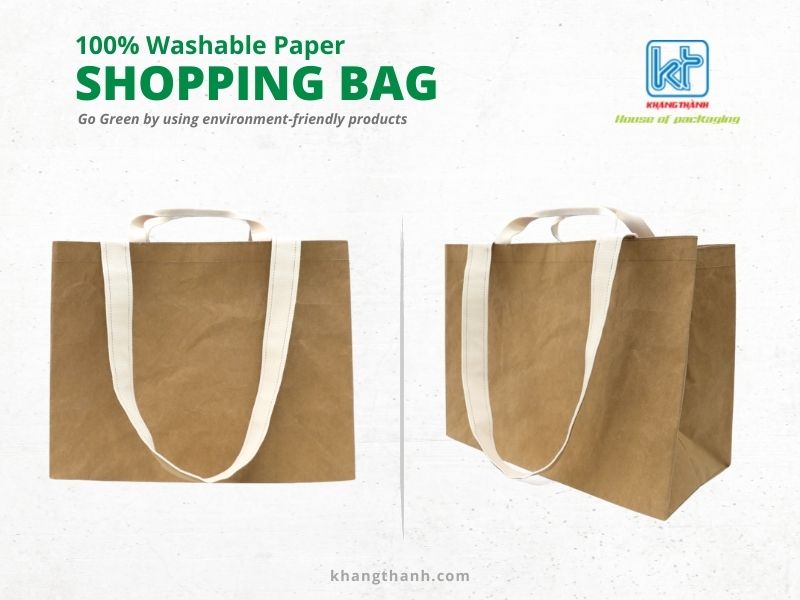 2. Reusable grocery bags with long straps
Enduring and abrasion-resistant
Recyclable and reusable
Either hand washing or machine cleaning
Each can support 40 pounds
Convenient carrying cases
These bags are designed to look like much more expensive reusable shopping bags yet cost a fraction of the price. Since the bags are practical and can store up to 40 pounds apiece, most people or families can fit their entire shopping into a single set of bags.
>>> 5 Popular questions about washable paper tote bags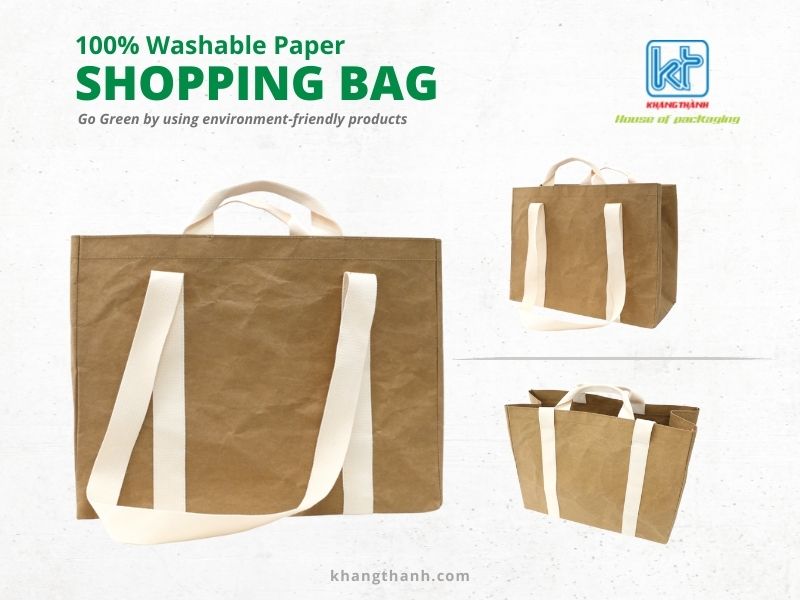 3. Grocery bags with paper straps
100% recycled and reusable paper
Hold 35 pounds each
Convenient carrying cases
These fantastic reusable bags have an easy-expanding construction and can store up to 35 pounds each, much like other amazing reusable bags. If you bring all five, they are enough for a full shop or a short run to the store. Throwing these washable, lightweight, reusable bags in the washing machine is an effortless way to clean them.
In addition, the bag handle is entirely made of paper, which is easily recyclable and decomposable. Hence, this version is considered one of our eco-friendly bags.

4. Colorful washable paper grocery bags
Stylish and fashionable
Organizer pouches
Machine-washable or hand washing
Hold 50 pounds each
This design is the best choice if you want your supermarket bag to serve more as an accessory than a functional item. Additionally, you will receive the functionality of the less attractive ones available. They come in a few colors, but despite that, they are some of the strongest and longest-lasting bags on the market.
Additionally, they have a surprising amount of space for food. You might even be able to fit the majority of your purchases in one bag if you shop a few times per week. Each bag can hold 30 pounds, allowing you to store heavy items like a jug of milk or a 10-pack of drink.
>>> 5 Reasons Why Your Business Should Switch to Washable Paper Bag

5. Insulated washable paper bags
It holds 40 pounds each
Recycled and reusable
Spacious bag
Your typical set of reusable bags would not do when completing a complete shop (including dairy, meat, and frozen things like ice cream), especially if you live a fair distance from the grocery store. On your walk home, make sure you have a reusable duffel to prevent food from freezing, thawing, or deteriorating.
Because the paper used to make these bags is so strong, you can fill them with all your favorite things without fearing that they may rip. With its reinforced twin tab zipped top, it can accommodate 30 pounds with ease. It keeps items more extraordinary for longer.


6. Custom reusable grocery bags
Recycled
Stay upright
Machine-washable or hand washing
Affordable price
You are already doing right by the environment by using washable paper shopping bags. Nothing is more frustrating than attempting to stuff something into a bag that won't close, but a set of reusable bags designed with a wide, flat bottom can help you avoid this issue.
This version has a sturdy box structure that won't give way as you pack, making shopping easier to manage. Additionally, they won't topple over in the trunk, making unpacking as simple as packing.


7. Fashionable washable paper shopping bags
Machine-washable
Stay upright
Extra durable straps
Roomy as other options
Use this bag if you want something durable. The advantages of washable paper are present in these compact, lightweight bags, which are also simple to fold up and store when not in use.
The look of plain bags is an attractive choice, especially if you intend to use the bags for purposes other than grocery. The bags' dimensions of 20 inches wide by 16 inches tall make them appropriate for your weekly shopping and other activities like going to the gym or having a picnic. You may even add attractive graphics or tie-dye these bags if you're feeling crafty; this is not an option available with a standard nylon bag.
>>> 11 Washable paper bags that will never go out of style

What to look for in a reusable shopping bag?
Material
Because washable bags are made of some of the most durable and environmentally friendly materials, they are among the most popular. If you're going to transport cold goods over a long distance, nontoxic supermarket bags and food safety are also necessary. Reusable bags that can be washed also provide durability and years of use.

Washability
Although most reusable shopping bags may be spot-cleaned, many people prefer ones that can be machine- or hand-washed for a thorough clean. Just remember to follow the care directions for any bag you decide on and to air dry many of them to prevent shrinking.

Capacity
Knowing how much you can pack into reusable grocery bags pays off. If your bags aren't big enough, you'll also have to bring disposable bags home with you. Furthermore, you risk the handle ripping or a tear if you overload your reusable bags. Some have a higher weight rating of 50 pounds, which is two to three times the load of a typical shopping bag, while others only have a 20-pound weight limit.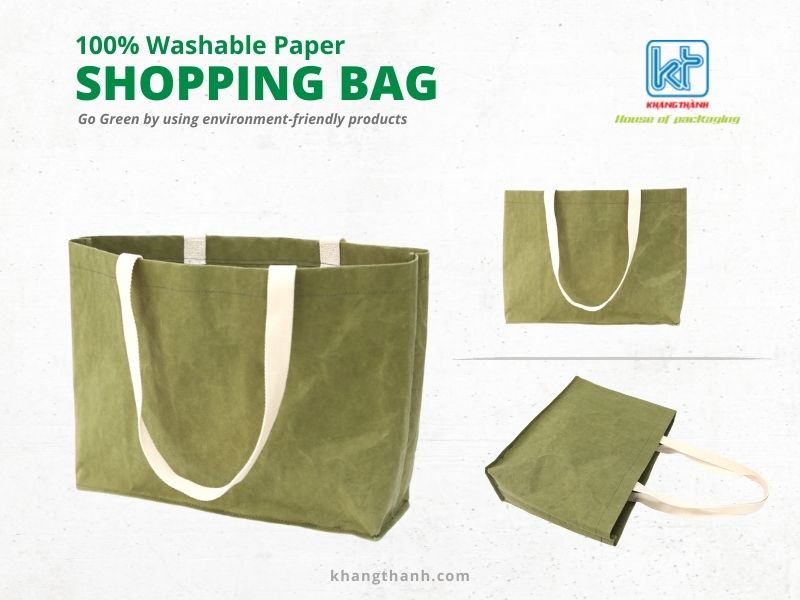 Why choose Khang Thanh for washable paper bag solutions?
We are an ODM – OEM packaging manufacturer for the US, UK, and EU markets. Over 17 years, we have served our customers across more than 20 countries, such as Aldi, Lidl, 3M, Walt Disney, Tchibo, etc.
Our major washable paper bags:
Washable paper tote bag
Washable paper shopping bag & Carrier bag
Washable paper storage bag & Planter bag
Washable paper backpack
Washable paper accessories
It would be our great pleasure to get associated with you. We can provide you with free washable paper bag samples for your assessment. Please reach out to us at:
KHANG THANH – HOUSE OF PACKAGING
Tel: +84 (0) 77 8878 222
Email: info@khangthanh.com