If you are looking for a surprise Christmas gift box for your family and friends, these 15 ideas are just what you need: simple, easy-to-do, economical, and eco-friendly.
1. The simplicity of paper gift box made of … recycled paper
A paper gift packaging design entirely made of available materials: kraft paper, stylized with white Christmas motifs, then a simple red ribbon is enough to make your gift distinguished.


2. Colorful paper gift box
Instead of using available wrapping paper, you can try painting by yourself. Use a paintbrush and a blank sheet of paper to draw your own freehand patterns. You will surely amaze the receiver with this unique paper gift box.


3. Food paper box
Instead of discarding plastic wrap dispensers, you can keep them and add little festive colors to make a cute box containing cookies.


4. Kraft gift box with light bulb patterns or polka dot
Christmas lights are not only hanging from the ceiling, you can bring them into Christmas paper boxes. What is better than receiving a kraft paper gift box with many colorful and fun fingerprint "bulbs".

Or you can also blow your soul into the kraft paper boxes with white polka dots (or any color you like) to make it look more attractive.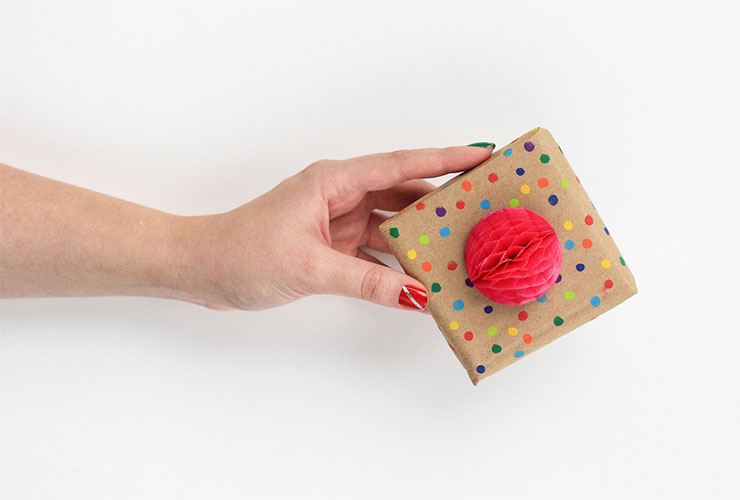 5. Origami gift box packaging
What is better than receiving a handmade gift prepared by the giver itself, a properly-made origami box is also a way of showing the giver's heart.
Read more: Premium gift box – The modern trend of gift packaging
6. Sweet and impressive paper bow on the gift box
Cut the pieces of paper into a bow shape with the knotted part of a package of candy. The receiver will be impressed firstly with this sweet bow even when the gift inside has not been opened yet.


7. Be sure to hang a tag on the paper gift box
A small beautiful ribbon with a kraft paper card printed with glittering gold, silver … colors will make your gift look more professional. Don't forget to send your best wishes to the receivers on those cards.


8. Washi gift box
Washi paper is not only for home decoration, you can also use it for gift wrapping. This is a craft paper from Japan, instead of pulp, washi is made of fibers of gambi tree, mulberry, or bamboo…
This paper is thin, light, and has good color adhesion. You can create an effect with horizontal and vertical washi stripes on the paper box.


9. Gift box in 3D style
Need to find unique gift box ideas for the kids? Instead of leaving the gifts inside, you can directly paste them outside with compact toys such as cars, crayons…


10. Decorate tree branches on the box
If you don't have much time then this gift box idea might be a good choice. You just need a plain-colored wrapping paper, then add a simple greeting card, and finally put on a branch of pine or evergreen… you now have a gentle and delicate paper box.


11. The "jingle" gift box
Make your Christmas paper gift boxes sound joyful with jingle bells… Add a red or green plaited cord to highlight your gift box.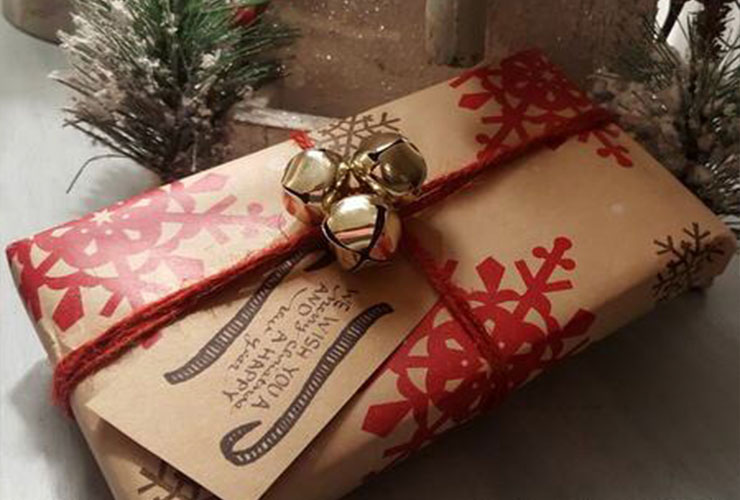 12. Huge ribbon on paper gift packaging
Are you going to give a cake this Christmas? A cake carefully wrapped with a food-safe kraft paper box, attached with a striped bow and green leaf is enough to make your gift attractive.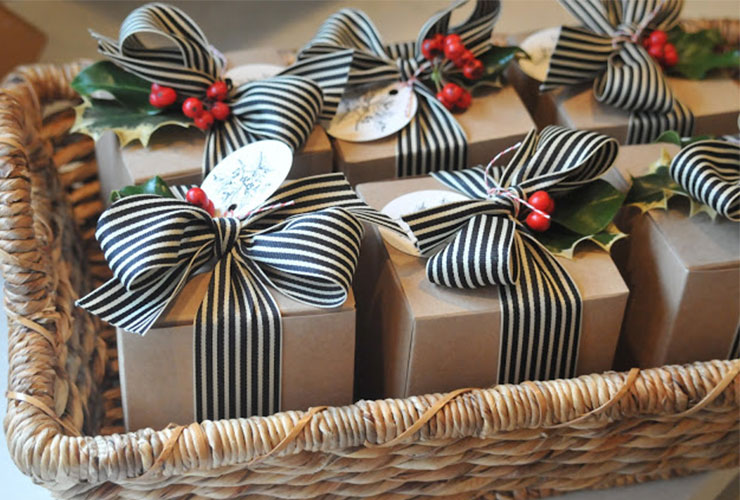 13. Unique gift box from cotton swabs
Just open the medicine cabinet, take a few white cotton swabs and arrange them into snowflakes, you will have a fancy paper gift box like this.


14. Paper box from … white chalk and blackboard
Going back to student days with gift boxes in a simple chalkboard-style: no fussy, stylish, just black or dark blue gift wrapping paper, painting some Christmas motifs with white paint, eraser, or white chalk… is enough to create unique boxes.


15. Layered tassel gift bag
A simple paper bag with layers of tassel-stacked paper will a perfect "outfit" for your Christmas present.

Hopefully, the above 15 suggestions can help you create your unique gift box packaging for friends and relatives this Christmas. What could be happier than seeing their excitement and surprise with your heart filled in each gift?

Please contact us for further advice and competitive quotation of paper packaging products:
KHANG THANH PACKAGING COMPANY – HOUSE OF PACKAGING
Tel: 077 8878 222
Email: info@khangthanh.com