Vietnam is one of the fastest-growing economies in Southeast Asia. Vietnam's printing and paper packaging industry is also rapidly developing, meeting the increasing demands of the domestic and international markets. Below is a list of printing and packaging exhibitions in Vietnam in 2023.
1. VPSE HANOI 2023
Exhibition for packaging machines, equipment, materials, packaging products, labels, and labeling systems.
2. HANOI PRINT PACK 2023
Exhibition for printing and packaging, printing technology, product promotion, services, printing, and packaging machinery and equipment.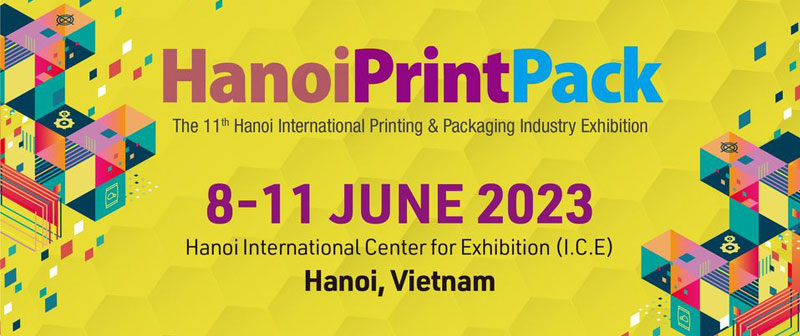 3. PLASTECH EXPO VIETNAM
Exhibition for machinery, equipment, technology, and raw materials in the plastic industry in Vietnam.
4. HANOI PLAS 2023
Exhibition for technology and production of plastics and rubber, product promotion, services, machinery, and equipment in the plastic and rubber industry.
5. COATINGS EXPO VIETNAM
Exhibition for coatings, color creation, dyeing, and ink printing.

6. PAPER VIETNAM 2023
International exhibition and conference for the paper and pulp industry, updating the latest trends, equipment, and technology in the paper industry domestically and internationally.
7. PLASTICS AND RUBBER VIETNAM
An international exhibition and conference on technology, raw materials, equipment, and machinery for the plastic and rubber industry.
8. PROPAK VIETNAM
An international exhibition and conference on processing, packaging, and printing technology.
9. VIETCORRUGATED & VIETFOLDINGCARTON
An exhibition on corrugated boxes and folding cartons, with the theme "Green packaging, environmentally friendly"
Participating in these exhibitions also helps printing and packaging companies establish partnerships, connect, and seek cooperation opportunities with domestic and abroad partners. At the same time, these exhibitions are also places for businesses to find suppliers, material partners, and machinery to improve production processes and product quality.
In addition, Vietnam organizes many other shows on the garment industry, wood, furniture, healthcare, food, restaurants, hotels, etc. These exhibitions are precious opportunities for businesses to seek cooperation, improve product quality, and develop their business in the future.
With over 20 years of experience in the printing and packaging industry, Khang Thanh is proud to provide high-quality, effective, and suitable packaging solutions for customer needs:
KHANG THANH – HOUSE OF PACKAGING
Hotline: (+84) 77 8878 222 ​
Email: info@packagingvietnam.com